Many of the athletes who ran the Olympic Marathon Trials last year in Atlanta qualified for the event with a half marathon time. And for some, the Olympic Trials was their marathon debut. While the vast majority of marathoners do get better after experiencing the distance a few times there are many runners who have turned in spectacular races on their first try. This success isn't limited to the professional athletes qualifying for the Olympic Trials, but it is hinged on proper preparation and avoiding some of the common mistakes people make in their first marathon.
Don't Overdo It
The first part of putting together a successful marathon training plan is understanding that training for shorter distances isn't all that different than training for a marathon. Many first time marathoners, from professionals to bucket list runners, think they need to double everything they do in training to run a marathon. That mindset is a sure fire way to run yourself into the ground and end up injured or burnt out by race day. While there are a few important training and racing differences when it comes to the marathon compared to other distances, the basics remain the same.
Spread Out Intensity
Many professional athletes stretch their weeks out to 9 or 10 days instead of the traditional 7-day weeks in marathon training. This allows for a few more recovery runs in the week by spreading out two workouts and long run over 9-10 days instead of 7 days. Doing a 20-mile long run in the middle of the week isn't possible for most people, but the concept of adding more easy recovery miles is an important one.
Try simplifying your week by having one weekly workout and a long run rather than two weekly workouts. When it comes to marathon training leave the track shoes at home. Keep your focus on tempo, fartlek, and hill based workouts for your harder efforts. These workouts should be the backbone of any type of training.
You won't (or better not!) spend much time in a marathon running at 5k pace so there isn't a need to do a lot of that in training. Eliminating the typical hard interval track day from the weekly schedule will allow you to recover better between your workout and long run. Consequently, you can run a few more miles without being overly tired or increasing your risk of injury.

Marathon Mileage
Running a little bit more mileage than normal will help, but don't go crazy just because you read that Shalane Flanagan runs 115+ miles a week during her marathon buildup. (She does, but it's her job and it took her years and world-class talent to get to that point.)
At a minimum for marathon training, you should aim to have some weeks in the 30-35 mile range. And if you stick with only one harder workout a week and are looking to increase your miles, most people running 30-40 miles per week can safely add 20-30% to their weekly mileage. Those running 45-60 miles per week should look more at a 10-20% increase. When it comes to the marathon, think about reducing intensity while increasing volume.
Marathon Long Run
For most people the increase in the long run distance will make up most of that difference without changing the rest of the week. But again, just because the ZAP pros run weekly 20-mile long runs doesn't mean you need to too. You do need to get in some longer runs. However, many people tend to over do this aspect of training and run into problems before they even get to the start line. You should aim to get in 3-4 long runs of 30k or more within the final 10 weeks, or one every 2-3 weeks.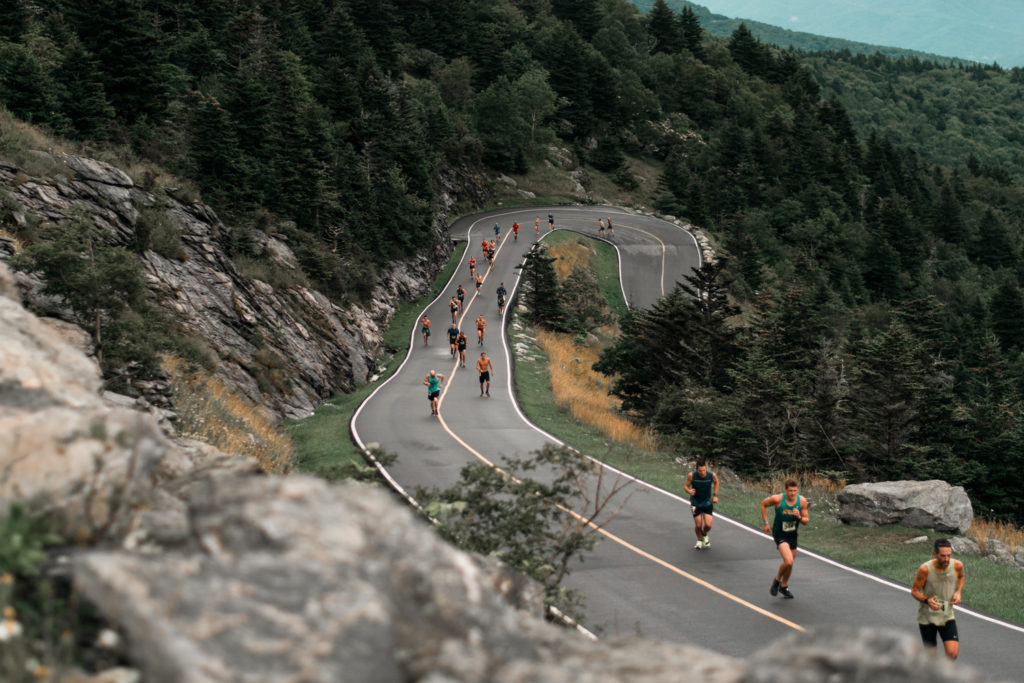 The longer long runs necessitate consuming both fluids and calories during the run. This is something you need to practice, as it is a crucial aspect of running the marathon. Don't assume you'll be able to do it just fine on race day. I've seen many runners struggle while taking in fluids and calories on the run. But with practice the body does get used to it. You should get in 100-110 calories every 5-6 miles along with several ounces of fluid. And if it's over 60 degrees drink twice as often as that.
If the marathon you're targeting is on the roads then you need to get a significant portion of your long runs on pavement. Soft surface running is fantastic. But when it comes to the marathon you do need to get used to the harder surface during your long runs.
Race Mindset
Tackling the marathon distance for the first time can be intimidating, and the idea of racing 26.2 miles can seem daunting. So don't think about racing for 26.2 miles. Think about going out for a long run with hundreds or thousands of new friends –how fun! If you have a pace you think you can run for the distance on a good day aim to run the first 20 miles of the race at a pace 15-20 seconds per mile slower than that.
Despite the immediacy any race presents, the goal for a first marathon should be to finish strong and finish feeling like you could have run a little faster if you hadn't been so conservative the first 20 miles. That kind of race will allow you to learn the distance while minimizing the chance of having a tough last 10k that leaves you swearing off the marathon forever.
As a first time marathoner it is important to respect the distance, but at the same time embrace the challenge and know that with proper preparation you don't need to be intimidated.