Good things come to those who wait.
Tristin was prepared to run a fast marathon at the Marathon Project in early December 2020. And then, in typical 2020 fashion, COVID interfered and due to a close contact exposure she was forced to miss the race. Tristin bounced back however, setting a 5,000m personal best on the track in March before turning her attention to Grandma's Marathon this past weekend.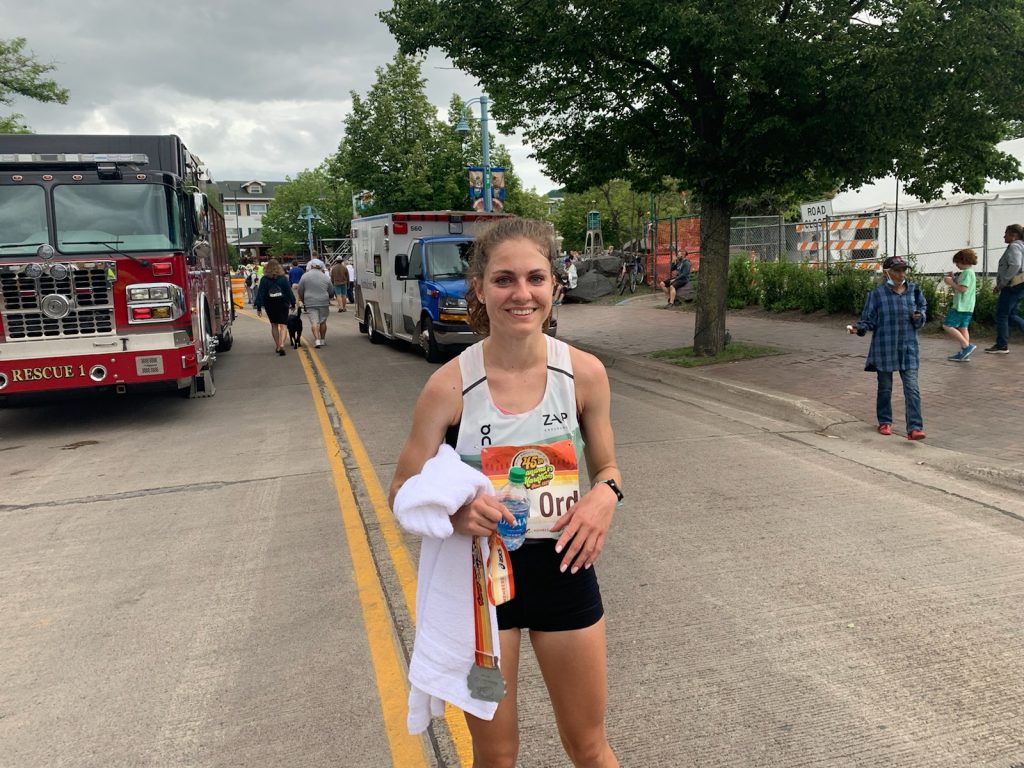 The race began under sunny skies with temperatures in the low 60's. In the first 10k she put herself in the top 10 and tucked into a pack of 4 other women. The pack passed 10k in just over 36 minutes and then halfway in 1:16:34. In the 2nd half of the race the sun went behind the clouds and the temperature mercifully stayed steady.
Tristin said she felt comfortable and didn't feel like the race began to get difficult until about mile 18. By then Tristin's pack had been reduced to 3 and she had moved up to 4th place. And by 20 miles there would only be 2 runners left in the group. As they approached 5k to go Tristin began to put in her final surge for home and moved into 3rd place, the place she would hold to the finish.
Tristin closed her final 5k of the race in 5:43 pace, her swiftest miles of the race. That final surge was enough for her to dip under 2:33 with a finishing time of 2:32:55. She shattered her previous personal best, from Grandma's in 2019, of 2:40:02 by over 7 minutes. And while on paper the race was a breakthrough, for Tristin it was a chance to finally get her PB in line with where it should have been since December.
Tristin's teammate, Pardon Ndhlovu, came into the race looking for a personal best of his own. Unfortunately, he was dealing with a hamstring strain during the buildup and it flared up a week before the race. He gave it his best shot on Saturday but his hamstring forced him to step off the course at mile 15.
You can find full results here.