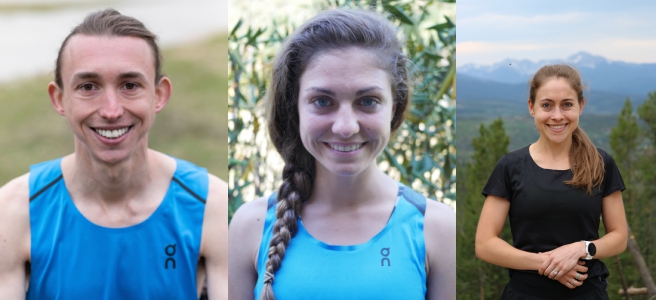 The On ZAP Endurance trio of Josh Izewski, Tristin Van Ord, and Whitney Macon will all be making their Chicago Marathon debuts this Sunday.
All 3 athletes are entering the race in exceptional form with high expectations. Whitney is making her marathon debut in an On ZAP Endurance uniform after joining the team this summer. She enters the race with a personal best of 2:33:21 which she set last December at the Marathon Project. During her buildup and recovery from that marathon Whitney battled injury issues, but has strung together a healthy training block since late in the spring and is excited for the opportunity to run Chicago.
Whitney and Tristin have enjoyed and benefitted from having each other as training partners. They have been in sync from the opening weeks of training and have helped push each other to new levels in fitness.
Tristin is coming into this marathon after setting a massive 7 + minute personal best at the Grandma's Marathon in June where she ran 2:32:55. Tristin just turned 27 years old this week, and has gained valuable strength and experience in each of her marathon races and training blocks. This summer's buildup to Chicago proved to be no exception to that rule. She will enter Chicago as a better athlete than she was this summer.
Josh will be racing his 3rd marathon in Chicago. In his marathon debut he ran 2:13:14 to place 3rd at the US Marathon Championships in 2018. He battled injuries in 2019 and leading into the US Marathon Trials in 2020, but still managed to place 17th. After the Trials in 2020 Josh trained consistently and was looking forward to a breakthrough at the Marathon Project in December. Unfortunately he got sick the week of the race and was forced to miss the event.
However, Josh rebounded in 2021 and will be looking forward to the breakthrough that eluded him last December.
The men and women will begin at 7:30am central time, 8:30am eastern. A local television station will be providing live coverage, you can find those details here. The marathon also provides a mobile app that features unlimited live race day runner tracking, elite athlete profiles, live broadcast streaming, real-time weather, an interactive course map, and more. You can find all the information on that here.
Editor's Note: Tyler Pennel had originally planned on racing the Boston Marathon the day after Chicago, but decided to withdraw. He will be focusing on continuing to get healthy and train consistently with an eye on late fall and winter racing opportunities.