Follow the On ZAP Endurance team's training and racing on our YouTube page. There will be some new videos coming soon documenting the lead-up to Rotterdam and Boston. Be sure to subscribe so you get notified when a new video is uploaded.
The ZAP team is closing in on the final 2 weeks of training camp in Colorado Springs, culminating in the Rotterdam and Boston Marathons. It's rare to have an entire team of athletes training for the same race together. Often the Olympic Trials are the only exception. This spring we have been able to capitalize on that singular, focused energy in Colorado Springs. (For more on Colorado Springs and why we did an altitude training camp check out this post.)
As you may remember, we arrived in Colorado Springs following the Gate River Run and Ashland City Half Marathon the weekend of March 6th. Since arriving in Colorado the team has been in full marathon training mode. As is often the case when you have 6 athletes preparing for marathons, some athletes are supremely while others have battled setbacks.
A week after arriving the team was joined by Joanna Thompson and Joe Stilin, longtime ZAP athletes currently residing in New York City. Their energy has always an asset to the team so it was great to have them join us for their first training stint since they moved to New York in August of 2020.
Joe Stilin & Joanna Thompson (The NYC Crew)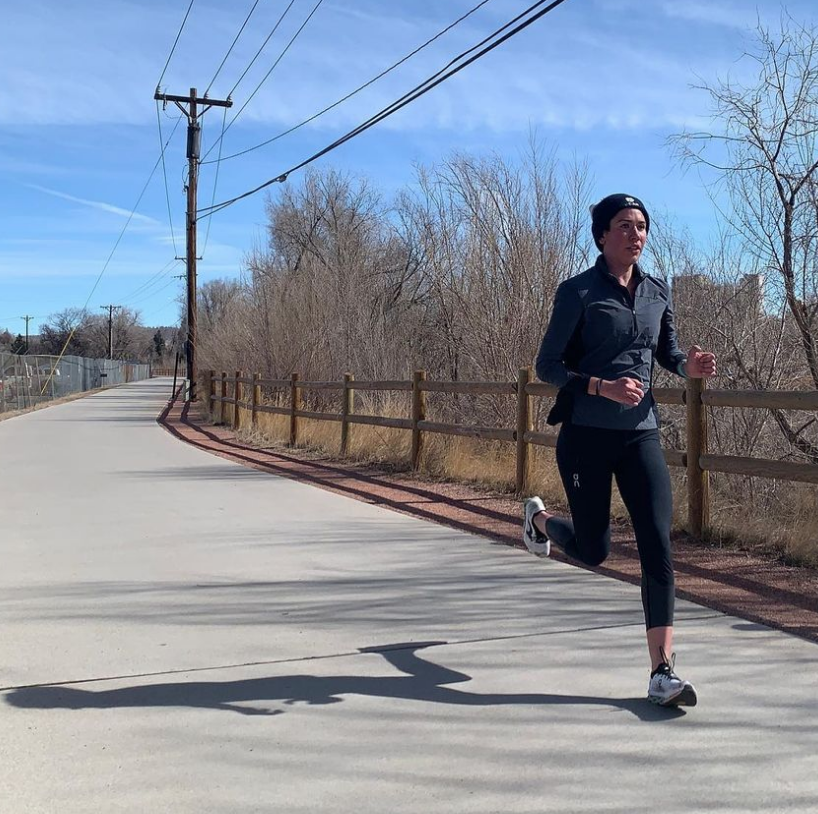 Coming off a personal best at the NYC Marathon in November, Joanna had been stringing together some very good weeks in New York. Then at the Ashland City Half Marathon she was forced to drop-out early with sharp knee pain. Fortunately, she recovered quickly and has resumed full training the last couple of weeks. She will be racing Boston, but was still able to work in with Tristin and Whitney (who are racing Rotterdam the week before) for most of their training in Colorado Springs.
Joe is recovering from a torn posterior tendon he suffered while training for the New York City Marathon in the fall. He received a PRP injection a few weeks ago and is continuing to rest it. He has been putting his high school swimming skills to use and unsurprisingly discovered that swimming at 6,300 feet is as challenging as running at 6,300 feet. Additionally, his homemade Pie Dinner on Pi day was a culinary highlight of the camp.
Whitney & Tristin (The Rotterdam Crew)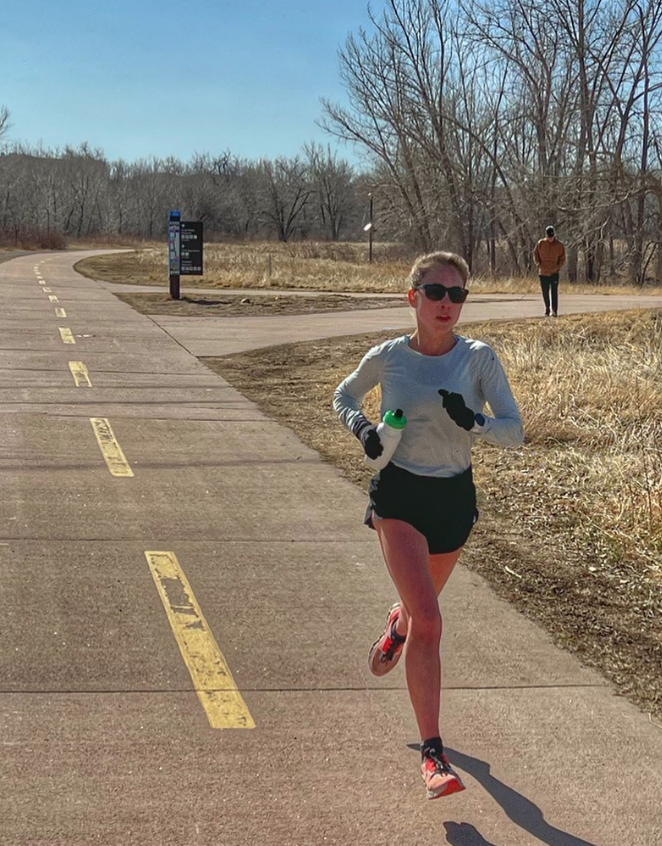 Whitney and Tristin are just over a week away from race day at Rotterdam. They head in having had some of the best training runs of their lives in the buildup. Tristin struggled with the adjustment to altitude in August, but the return trip this winter has gone much more smoothly. Both her and Whitney were able to slip into harder workouts and long runs without much transition. Some of that is thanks to the folks at the Hybl Center, who have allowed us access to their facility, including an altitude training chamber. The chamber allowed us to do a couple of workouts at lower elevations on days where we were stuck inside due to weather.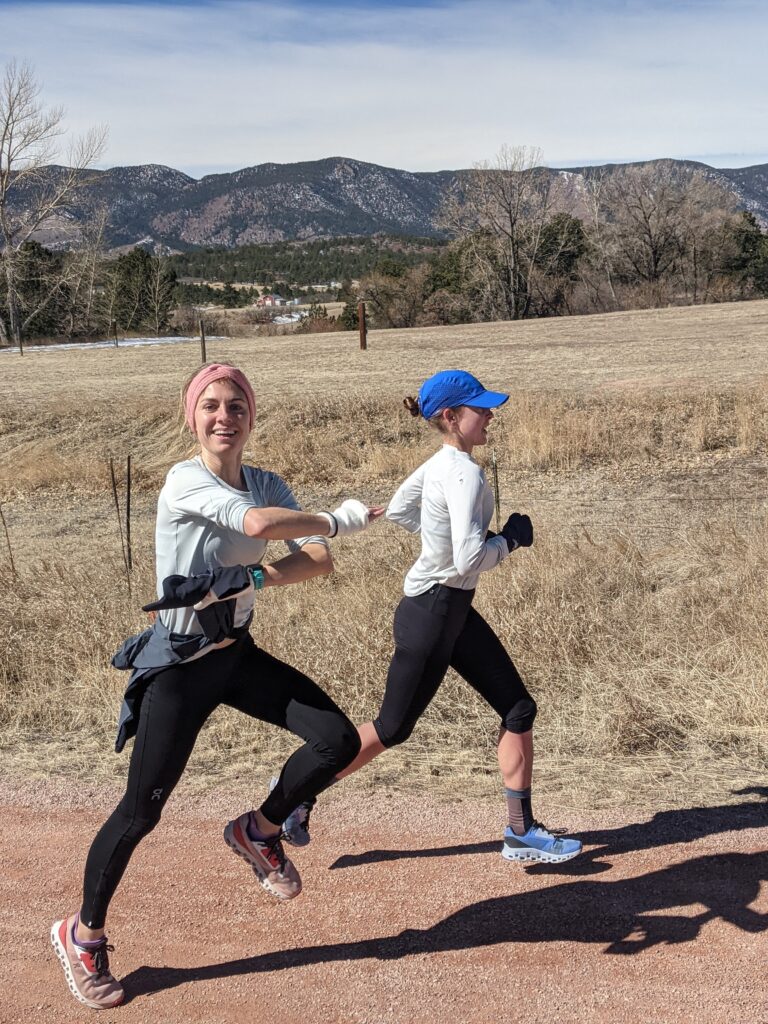 Whitney and Tristin depart Colorado next Wednesday for Europe, arriving in Rotterdam Thursday afternoon. When coming down from altitude you want to race relatively quickly upon arriving at sea level to maximize the performance benefits. There is good research showing as you approach the 1 week mark the performance benefits decline. Interestingly, there is a "good window" for performance within that first week, then a "bad window" from 1-2 weeks, then another "good window" after 2 weeks. We decided that 4 days was a good balance of getting adjusted to European time and maintaining the adaptation from altitude training. If you really want to get into the weeds check out Dr. Robert Chapman's presentation on Timing of Competition After Returning from Altitude Training.
Tyler, Andrew, & Josh (Men's Boston Crew)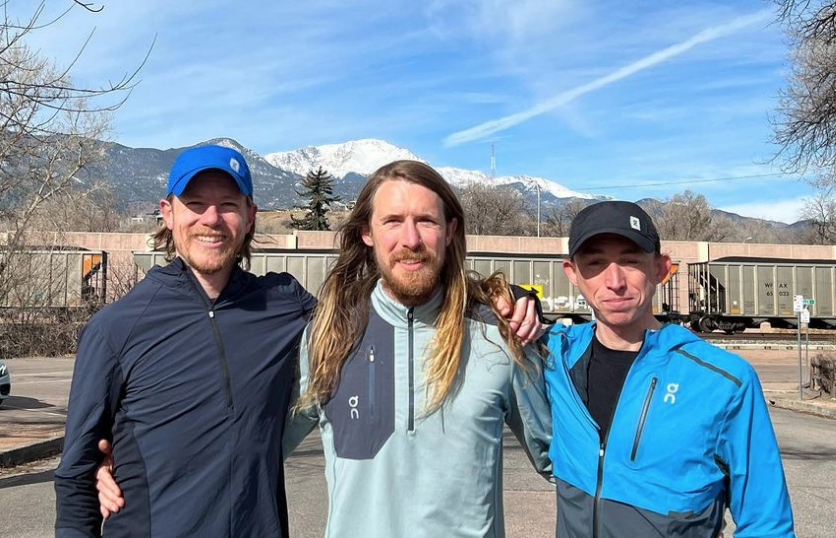 Andrew Colley and Tyler Pennel entered the Boston buildup after spending much of the last 2 years battling injuries. Neither had seen a high level race since the 2020 Olympic Trials until Andrews's 15th place finish at the US 15k Championships a few weeks ago. Both took the fall to focus on getting healthy: maximizing our local resources with Jenn Pillow (massage therapist extraordinaire) and Marathon Chiropractic as well as making 2 trips to Arizona to receive treatment. They undertook a new strength and mobility routine to correct imbalances, restrictions, and dysfunctional movement patterns. All of this lead to a consistent few months of training leading into the spring.
Tyler had been steadily making progress in his fitness. As is always the case, some days were better than others, but the overall trajectory was continually upward. Then he went to the Williamsburg Half Marathon in mid-February and had a disappointing effort. The way he felt was more concerning than the time, but we chalked it up to a tough day. Then the tough days kept coming. For the next few weeks his fitness seemed to backslide.
He had some routine bloodwork done and discovered a suppressed immune marker, indicating a prior viral infection. Given that, and the drop off in performance over the last few weeks, he decided to get a Covid antibody test. That test showed that he had contracted Covid at some point in the previous couple of months. Despite being asymptomatic, the infection was enough to significantly reduce his performance capability and has forced him to scratch from the Boston Marathon.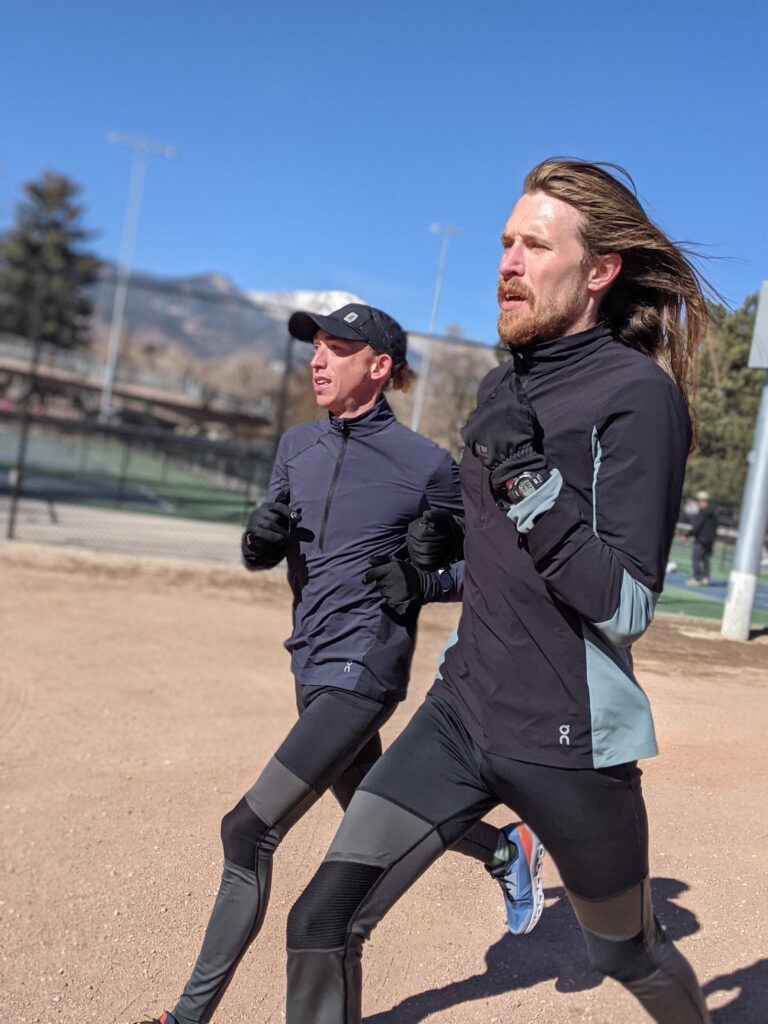 The good news is he has an answer to the sudden performance drop, and it's correctable. Josh had a similar experience in his recovery from a 2020 infection. Josh was unable to do hard workouts for a couple of months upon returning to training. He was able to run easily, but just really struggled with anything of intensity. However, after a couple of months he fully recovered was able to return to his previous level of performance.
Andrew has continued to improve week after week. The consistency he's been able to achieve has allowed him to reach a level of fitness not seen since his exceptional buildup to the 2020 Olympic Trials. Despite this being his first altitude training stint, the transition to working out at over 6,000 feet has been seamless.
Josh has also transitioned to camp well. Coming off his 2:12:45 personal best at Houston in January his buildup has looked quite a bit different than Andrew's. Despite dealing with a tight quad coming off Houston, his residual fitness allowed him to jump right into workouts and long runs since arriving in Colorado.
Despite the ups and downs the team has experienced this year, the unified focus the team has shown in the last few weeks has set the stage for some special opportunities in the coming weeks.
Follow Us on YouTube
For more on the team, their training and racing please check out our YouTube page where we'll be uploading more content in the coming weeks!