Whitney and Tristin had big goals coming into the Rotterdam Marathon. The build-up to the marathon had gone well and Rotterdam was famous for it's fast course and cool weather. Tristin was eager to keep the positive momentum from 2021 rolling, and looking to breakthrough to the next level of American marathoning. Whitney was looking forward to turning the page on a tough 2021 and to have her first signature performance in an On ZAP Endurance uniform.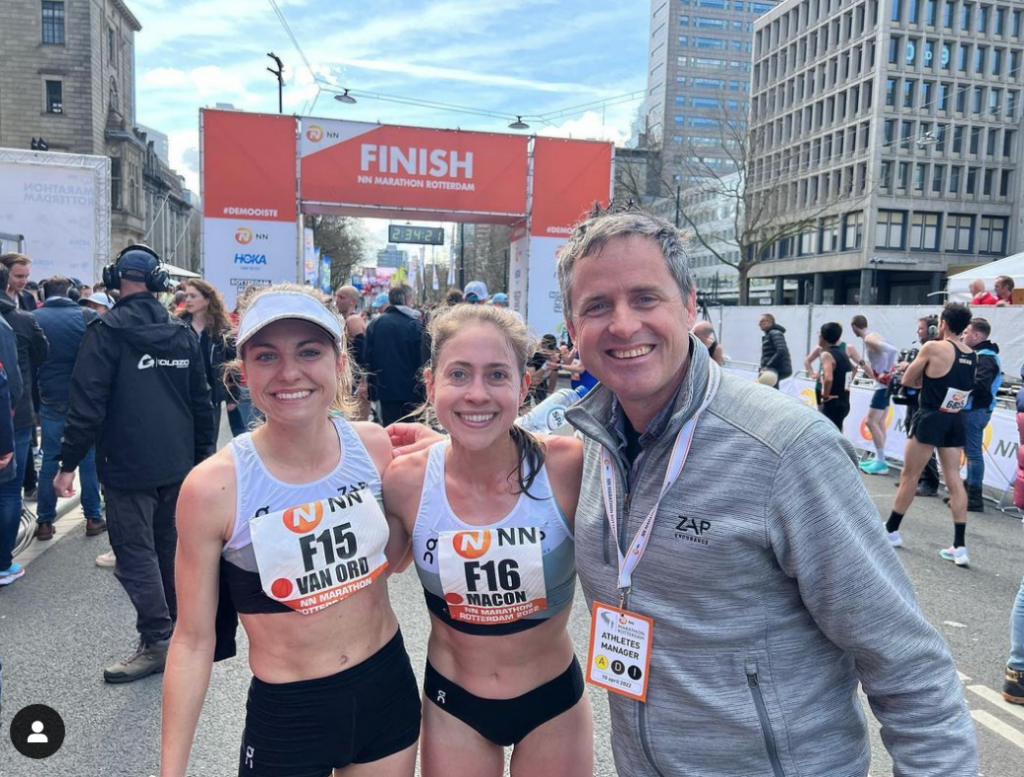 After Sunday's race, both athletes felt like they had accomplished their objectives. Tristin lead the way with a massive personal best of 2:29:32. The mark took nearly 3.5 minutes off her personal best and nearly 2.5 minutes off the long standing ZAP Club Record. The previous record was held by 2011 World Championship team member Alissa McKaig. Alissa ran that mark of 2:31:56 en route to her 8th place finish at the 2012 Olympic Trials.
Tristin's breakthrough garnered her a 5th place finish in the World Athletics Elite Label event. After the race Tristin commented, "This race was everything we could have asked for and more. I couldn't be happier to celebrate PR's and Olympic Trials Qualifiers with Whitney."
Whitney's new personal best of 2:32:45 carried her to a 10th place finish. Her time was 36 seconds faster than the 2:33:21 she ran in December, 2020 at the Marathon Project. Following her move to mountains of North Carolina to join the On ZAP Endurance team last summer, Whitney feels like she has finally settled in. She was grateful to have the hard work she's been doing translate into race day success and the improvement has ignited her flame for what's to come. Which now includes the 2024 Olympic Trials by virtue of running under the qualifying standard of 2:37:00.
After the race Whitney reflected on the transition to her new team and on her new personal best. "I am so grateful for my On ZAP Endurance team who helped me bounce back after some poor races last fall. Low points of the recent past make me so much more appreciative of the good days like this. Lots to take away from the past few months of training and from this race. One thing I know is that I have a lot more to do in this sport!"
Tristin and Whitney are spending the week doing some European sightseeing. But they will conclude their trip in Boston to watch their teammates race the Boston Marathon next Monday.