Andrew Colley delivered his best performance of the year at the Manchester Road Race on Thanksgiving Day to continue his strong return to racing. Leading the way for the ZAP team, that included Ryan Ford, Dan Schaffer and Eric van der Els, Andrew battled for the win down the final straightaway, ultimately taking 4th place in a time the bettered the previous course record by 8 seconds.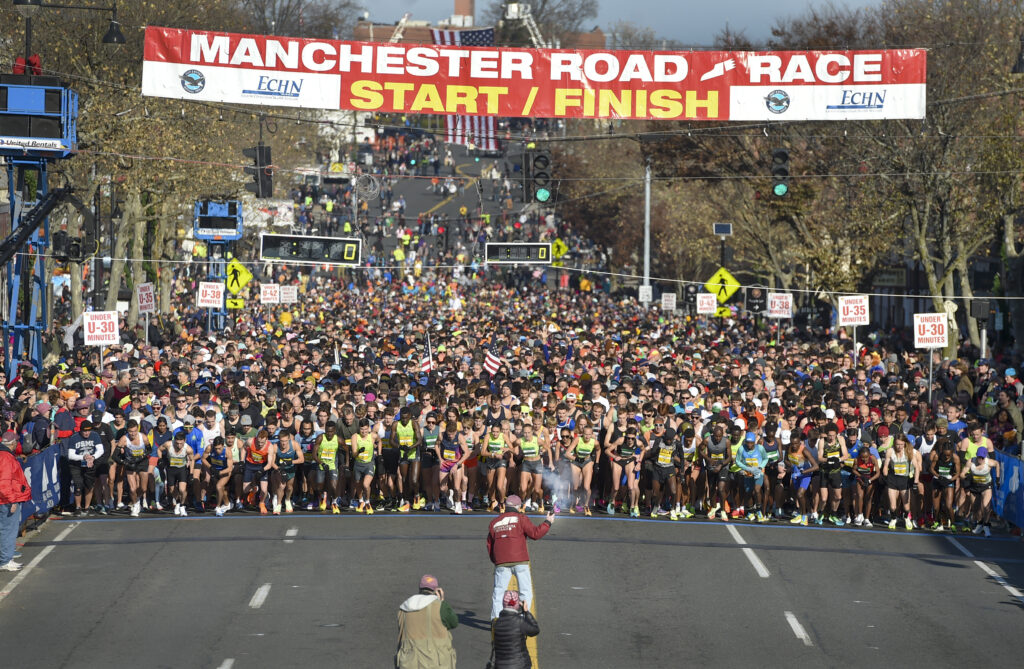 The race began with a downhill start so the 4:20 opening mile wasn't shockingly fast and the entire elite field remained in contention. The long, grinding uphill from mile 1 to 2.2 served it's traditional role in thinning out the field. The pace up the hill was breakneck and the field was strung out by the top. Andrew had drifted as far back as 12th place on the climb and he was followed in short succession by Ryan, Dan and Eric.
After the string of runners crested the top of the hill Andrew quickly caught up to the front group of 8 athletes. Ryan found himself in 12th place, Dan in 14th, and Eric in 16th – all positions they would hold to the finish 2.5 miles later.
Down the hill and into the flat 4th mile Andrew remained with the leaders, taking a couple of turns at the front pressing the pace. He was able to whittle the pack down to 6 as they made the final turn for home with 600 meters remaining. In an exciting sprint finish over the final straightaway Andrew finished in 4th place in a blistering time of 21:07, 3 seconds off the win and 8 seconds ahead of the previous course record.
Ryan finished 12th in 21:38, Dan was 14th in 21:50, and Eric finished 16th in 21:56 – 21 seconds faster than he ran last year to finish 14th.
You can watch the full replay of the race here, and see full results here.
———————-
Next up for Andrew and Ryan will the Cross Champs in Austin, TX this Thursday, December 1st. This is the first year they've run the event and it is shaping up to be an intensely competitive field. The race is at St. Stephen's School in Austin if you're in the area, with the men's 8k race beginning at 4:30pm central time. You can see the full field here.
Later in the week, on Saturday evening, Eric and Dan will be competing in their first track race since joining ZAP. They will compete over 5,000m on the indoor track at Boston University. This race will conclude their fall strength building phase before they return to the track for a full indoor season in 2023. The men's race will be split into 2 sections with the first section beginning at 5:55pm eastern. You can stream the race live on Flotrack (subscription required) and you can find live results as the meet unfolds here.