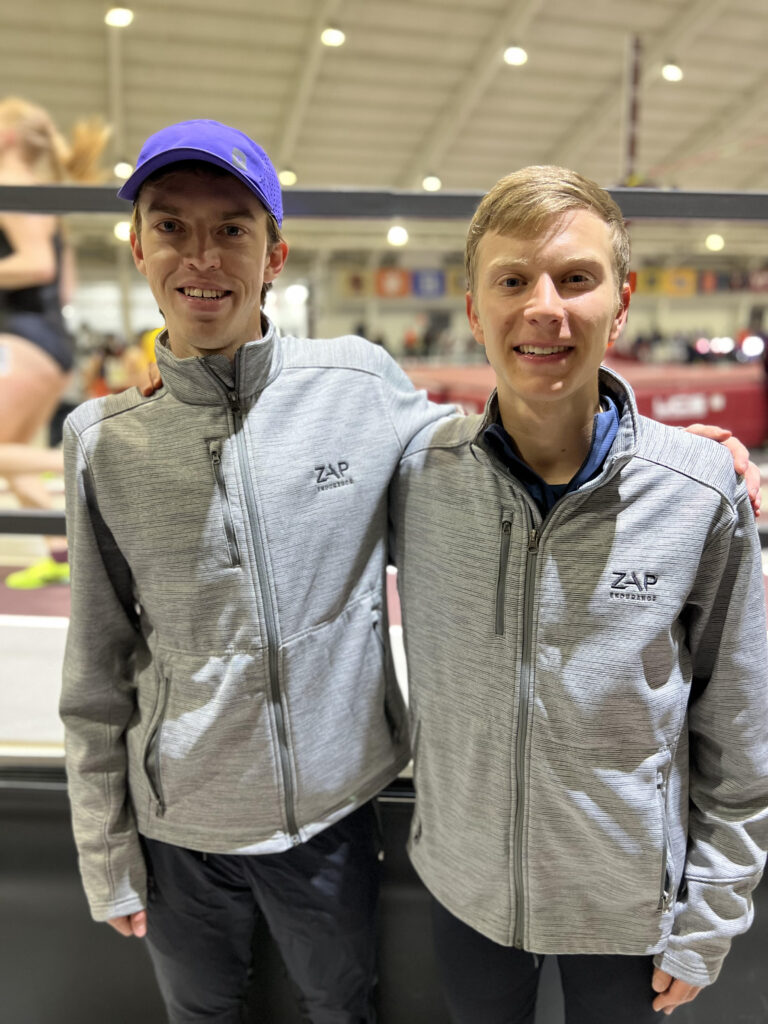 ZAP rookies Ryan Ford and Dan Schaffer opened their 2023 racing seasons Friday night at the Virginia Tech Invitational. Ryan competed in the 3,000m event 8 days before he's set to race the US Cross Country Championships. Dan stepped down in distance to race the 1,000m run.
Ryan kicked things off in the men's 3k. After getting a slow start off the line he spent the first 3 laps of the race working his way through the 20+ man field to get to the front. Ryan hit the 600m mark in 1:40, pace for an 8:20 finishing time. He subsequently took the lead and started clicking off 32 second laps, immediately opening up a gap on the rest of the field. He would run unchallenged the rest of the race.
Ryan passed the 1k marker in 2:44, increased the pace over the 2nd kilometer to 2:42. At 2k he ratcheted down the pace again, covering the final kilometer in 2:38 to take the win in 8:05.
In the men's 1k Dan lined up on the outside stagger. After having a hard time gauging his effort on the opening lap, which he passed in 30.1, Dan ran 28.0 on his 2nd lap to regain contact with the lead group. On the 3rd lap Dan moved up onto the leader's shoulder and with 300m to run was poised to make a move for the lead. However, the leaders shifted gears to remain in front. Dan would hold 3rd place around the final 2 bends and to the finish. He stopped the clock at 2:24.28, covering the final 800m of the race in 1:54.1.
Dan will return to Virginia Tech this Friday, January 20th, to compete in the mile. He holds a personal best of 3:57.47 at the distance. You can follow the live results here once the link is active.
Ryan will be competing at the US Cross Country Championships alongside teammate Andrew Colley. You can find our full preview of that event here.
Click here to view full results of the Virginia Tech Challenge.