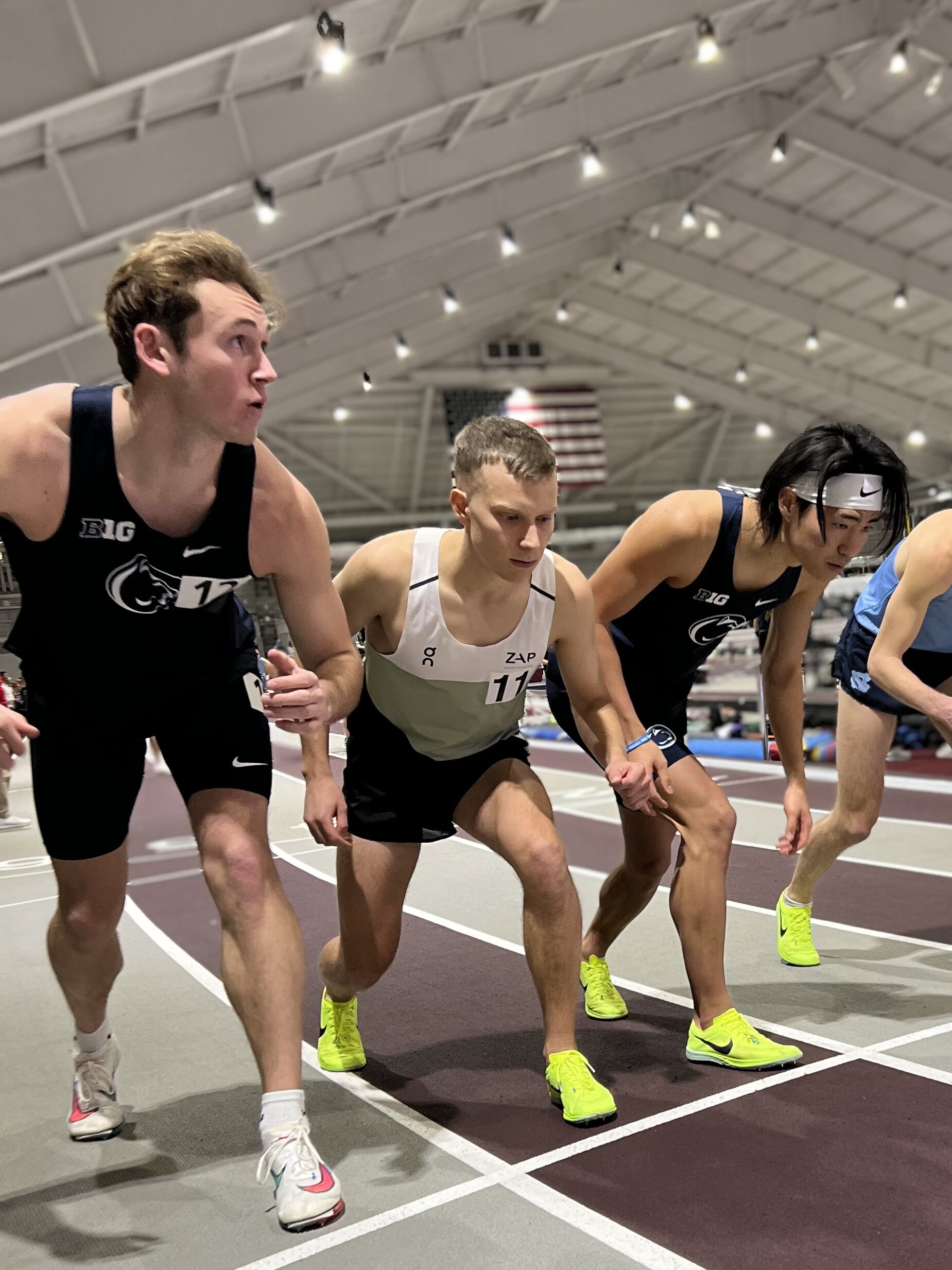 ZAP Endurance's Dan Schaffer dipped under 4 minutes in the mile for the 5th time in his career in winning the Hokie Invitational at Virginia Tech last Friday night. It was Dan's 2nd indoor race of 2023 after running 2:24 for 1,000m the week before. Dan felt confident coming into the meet that his track speed and fitness was coming along nicely and was planning on racing to win.
The race started out quickly with the lead group passing through 1/4 mile in 59 seconds and 1/2 mile in 1:59. After that the pace slowed a bit with a group of 4 athletes coming through 3/4 mile in 3:01. Dan shot to the front with 1.5 laps remaining (300m) and began to pick up the pace, running the penultimate lap in 29.8 seconds, a second quicker than the previous.
Despite the increase in pace all 4 athletes remained in contention at the bell with 200m to run. Dan continued to lead and down the backstretch fought off a hard challenge by the University of North Carolina's Ethan Strand. When Strand pulled on up Dan with just over 100m remaining Dan responded, launching into the final curve and immediately opening up a gap he would hold to the line. Closing his final circuit in a swift 27.3 seconds to stop the clock at 3:59.60.
You can check out the full results here.
Next Up
Dan will be returning to the track for the third weekend in a row. Saturday afternoon he will be competing at the Dr. Sander Invitational in New York City on national television. Dan will be competing in the men's 3000m event at 12:40pm. The race is scheduled to be paced at the 7:46.0 qualifying standard for the US Indoor National Championships in February. You can catch the live results here. The race will also be broadcast nationally by NBC. You can watch the meet live from 12pm-2pm on CNBC and Peacock.