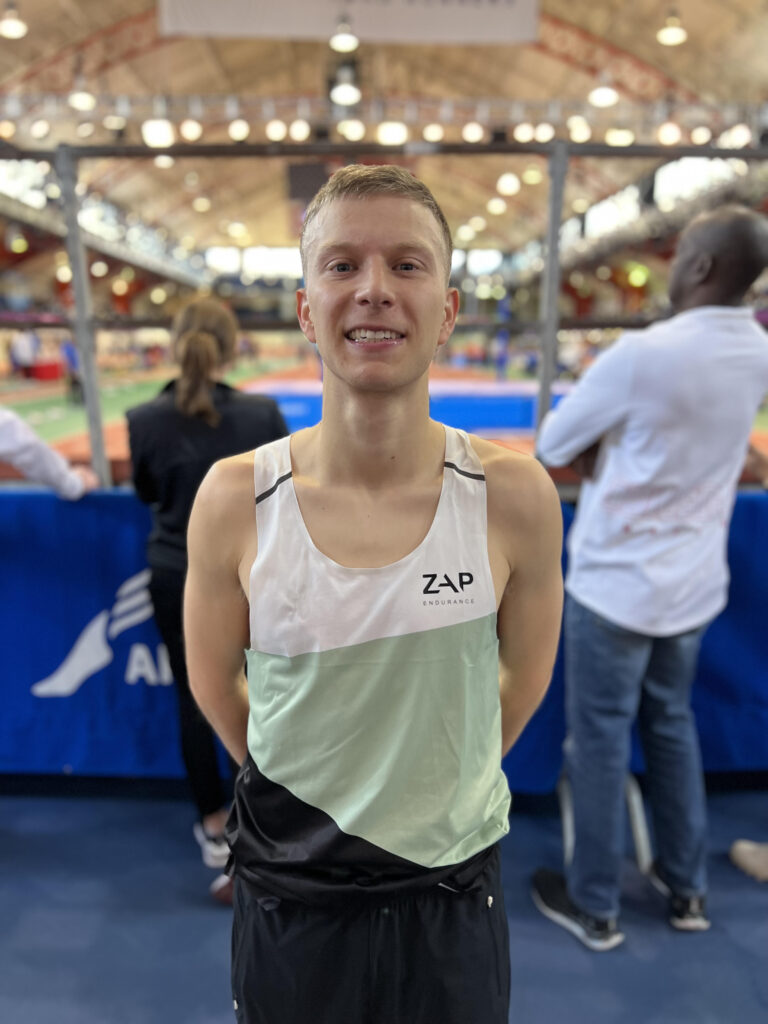 ZAP rookie Dan Schaffer continues to impress in his first indoor season. He has steadily gotten better each time out in 2023. Coming off his 3:59 mile the week prior, Dan traveled to New York for the Dr. Sander Invitational where he posted the best mark of his young career, a 7:43.47 3000m. The mark broke the ZAP club record by 4 seconds and Dan's previous personal best by 7 seconds. His time is the 4th fastest by an American this indoor season, and the 14th fastest time in the world. His time also qualifies him for the USA Track and Field Indoor Championships in February.
Dan came into the race knowing there would be a pacer running at 7:46 pace, the qualifying mark for the US Championships. The race started off quickly with the pacer passing through the opening 400m in 60 seconds. Dan hung back a bit and then by 800m had joined the front pack that clipped off consistent 31 second laps to pass through the first mile in 4:09, right on pace.
After 1800m the pacer stepped off the track and the race had winnowed down to 4 athletes. Dan was sitting in 4th place as the group passed 2k in 5:12. The pack remained intact until 600m to go when Moroccan Annas Essayi hit the front and began to ratchet up the pace. Dan followed Essayi to the front to cover his move before being passed with 400m to go and slipping back to 3rd place. With 1 lap to go Dan remained in 3rd place, but was able to kick hard around the final bend to finish 2nd.
Dan will get a well deserved week off of racing before heading back to the Northeast on February 11th to race a mile where he'll be looking to improve on his personal best of 3:57.4. He will be joined there by Ryan Ford, who will be competing in the 5,000m. Tristin Van Ord will also be competing in the 5,000m, making a quick turnaround from the Houston Marathon to prepare for the best 10k of the year at the Sound Running event on March 4th.
You can find the full results from Dan's race here.