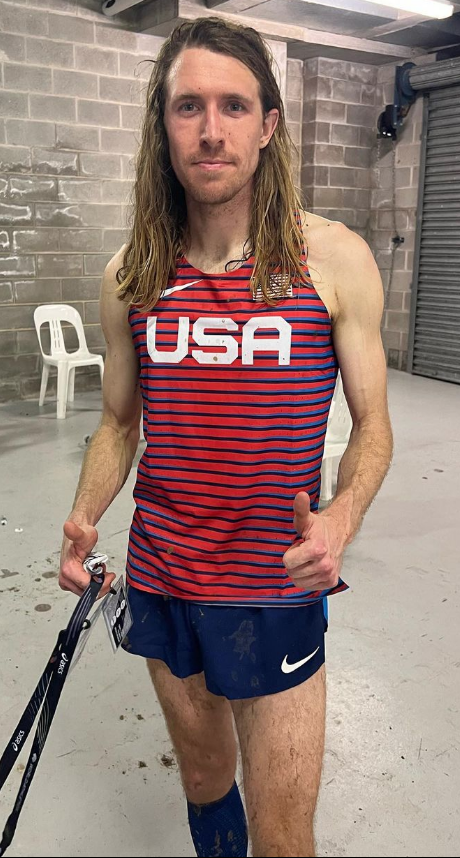 Andrew Colley capped his winter racing season at the World Cross Country Championships in Bathurst, Australia on Saturday evening. The "Greatest Footrace in the World" was held over a challenging course in challenging conditions down under. Andrew rose to the challenge to place 36th overall, the 3rd scoring member of the American team.
The pace, as is typical at this event, was relentless from the start. With several technical aspects at play there was extra motivation for the pack to get out hard and stretch out the field. The mud pit 1,000m into the race began to stretch the field out as runners had to be careful to keep upright. Andrew found himself in the top 50 and was able to keep his footing through the mud before charging up the most challenging hill on the course.
The start time for the race was moved up 20 minutes to beat an incoming storm. And halfway through the first 2k loop the wind kicked up, blowing dust and dirt in the runners faces. It did provide a reprieve from the 80 + degree temperatures that had been bearing down on them at the start.
After the opening loop the race quickly spread out and Andrew was in approximately 48th position. He maintained his position in the 40's throughout the opening 6k of the 10k course. After the third loop Andrew began to slowly move his way up into the 30's. Battling the conditions as well as the world's best runners, Andrew would work his way as high as 35th place before finishing 36th.
The US men finished 6th in the team standings, 5 spots better than the last time these Championships were contested. Andrew was the 3rd of 4 scoring members of the team (Sam Chelanga – 21, Emmanuel Bor – 32, Anthony Rotich – 45.)
You can see the full results here, view them with 19 intermediate splits here, and watch a full replay of the race here.
Andrew will get a short break in training before shifting his focus to the Rotterdam Marathon on April 16th. The team will leave for altitude camp in Colorado Springs March 9th and Andrew will depart Colorado for Rotterdam, he won't see any more racing between now and marathon day.