"A beautiful day for the marathon, seventy-five degrees and sunny!" Those are the words Dick Beardsley heard from the local weatherman the morning of the 1982 Boston Marathon. What would follow was his epic "Duel in the Sun" with Alberto Salazar that inspired John Brant's book of the same title. (Side note: very strongly recommended read.)
We have been fortunate to hear Dick tell his story at our running vacations. And that tidbit from the unwitting weatherman is always met with the knowing laughter of experienced runners. Dick ran his lifetime best of 2:08:54 that day, despite temperatures climbing into the 80's. Between the famously challenging course and unpredictable weather, the Boston Marathon provides a unique set of challenges for the thousands who are fortunate enough to participate every year.
Boston Marathon is a Downhill Course
Perhaps one of the biggest misconceptions of the Boston course is that so much of the course is uphill. The Newton Hills from miles 16-21 are notoriously challenging. And they are a make or break point for many runners. However, the biggest reason those hills are so challenging is the 400 feet of elevation loss preceding them. That descent is a punishing precursor to the 200 foot climb through the Newton Hills.
To be sure, any time you have hills in a marathon from miles 16-21 you have your work cut out for you. But the early net downhill in Boston makes it a particularly cruel set of climbs. The key to a successful Boston, beyond your preparation, is to control the opening miles. It's easy to slip into a fast pace. The early downhill miles can make the pace feel effortless. For 99.9% of people, their lungs can write a much bigger check than their legs can cash. Be patient and your quads and calves will thank you over the final 10 miles for your discipline.
Negative Split Effort
As a general rule the best way to race a marathon is with a slight negative split strategy. Boston is an exception to that rule. A negative split style race is still the goal, but at Boston that means a negative split effort rather than actual pace. You should aim to run the first 16 miles of the race at an average of 0-5 seconds per mile faster than your goal pace. That pacing strategy will deliver you to mile 16 having taken advantage of the faster miles. And you'll still be prepared physically and mentally to tackle the final 10 miles.
Heat Acclimation for Boston Marathon
The other element of Boston that can cause problems is unpredictable April weather. This is true for any spring marathon. It doesn't take "seventy-five degrees and sunny" to impact a race performance when the bulk of training has been done through the winter. A sunny 60-degree day can cause more problems in spring marathons than it would in the fall due to a lack of proper acclimation. In the fall people have done the bulk of their training in the summer months. That makes a big difference in acclimatizing to warmer temperatures.
We can't control the weather, no matter how many times we obsessively check the forecast the week of the race. (Also, stop doing that!) However, there are things you can control about your preparation for warm weather. That is where you should focus your energy rather than on worrying about things outside your control.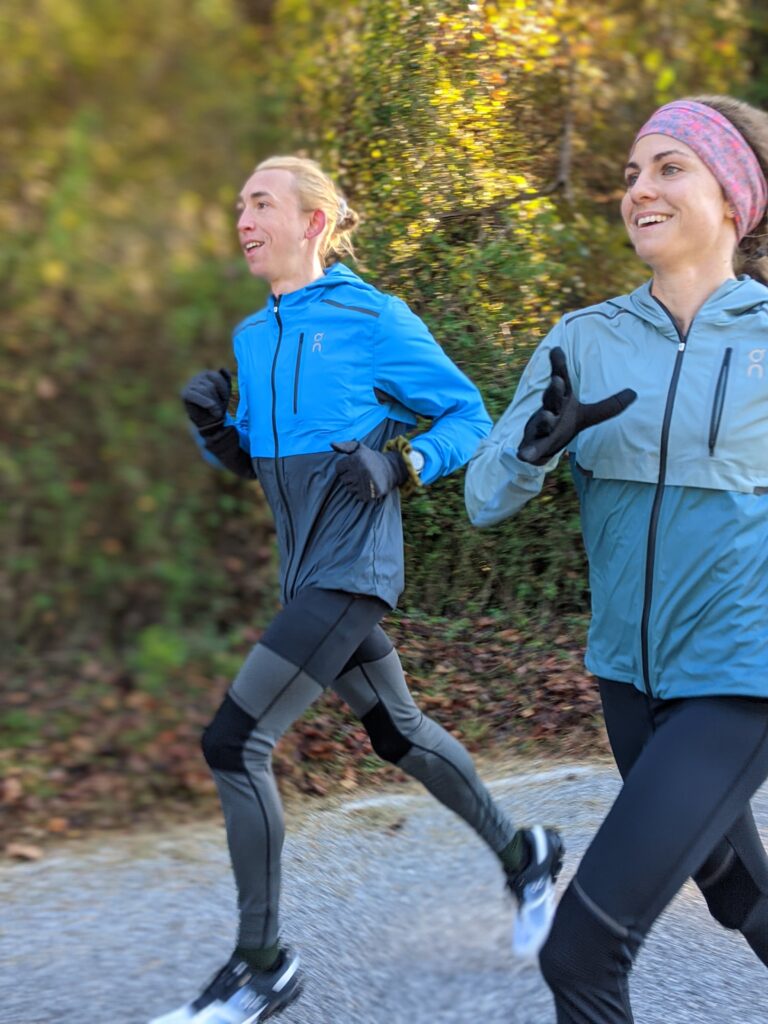 Over Dressing
It takes 10-14 days to adapt to heat. Even if the weather outside is cool you can improve your ability to handle warmer temperatures. Dressing a little on the heavy side for your runs, wearing a jacket and pants even if it's in the 50's or 60's, will help your body acclimate to warmer temperatures.
Research shows you need to spend 1-2 hours a day in warmer temperatures and exercise during that time. It must be said that there are some risks to this type of adaptation. You must be vigilant about staying hydrated. And it's critical to keep your effort, not pace, the same as it would be if you were running in cooler conditions.
I would recommend over dressing only for easy runs or any cross training you might do and not for long runs or hard workouts. Dressing heavier makes workout efforts harder to control and increases the risk you'll run them too hard. And equally as important, slowing down your workouts and long runs, even due to dressing warmer, can lead to the loss of confidence before the race.
ZAP Team Practices
The 2016 Olympic Marathon Trials were held in warm conditions in Los Angeles. In the final few weeks before the race the ZAP team overdressed on their easy runs. Additionally, the athletes would turn up the heat in their rooms at our training camp to spend a few hours during the day in warmer temperatures. I understand that may be one step too far for your family. But you can always dress a little heavier, to the point of being slightly uncomfortable. You should aim for 2 hours a day total, between living and training warmly, to achieve meaningful heat acclimation gains.
The great news about those gains is that you'll reap the benefits even if the weather is nice and cool on race day. Heat and humidity have been shown to have similar performance enhancing benefits to training at altitude. That is to say, the heat stimulates your body to increase blood volume. This increases your body's ability to provide oxygen to the working muscles, the fundamental key to endurance performance.
If the weatherman announces that April 18th in Boston is going to be a beautiful 70-degrees and sunny you can relax and know you're prepared for whatever Mother Nature throws your way.