The ZAP trio of Ryan Ford, Dan Schaffer and Tristin Van Ord all raced the 5,000m at Mt SAC on Friday night. Tristin took to the track first. She came into the meet with a personal best of 15:45 from the summer of 2022. In that race she was hanging on to a large pack. Her experience Friday was quite a bit different as she found herself up front throughout the race.
The race began modestly with the lead group running 16:00 pace through the first 600m of the race. Tristin quickly went to the front and ratcheted things back down into the 74-75 second per lap rhythm, more along the lines of 15:35 pace. She quickly whittled down the lead group to 4 by the time they passed the mile in 5:01.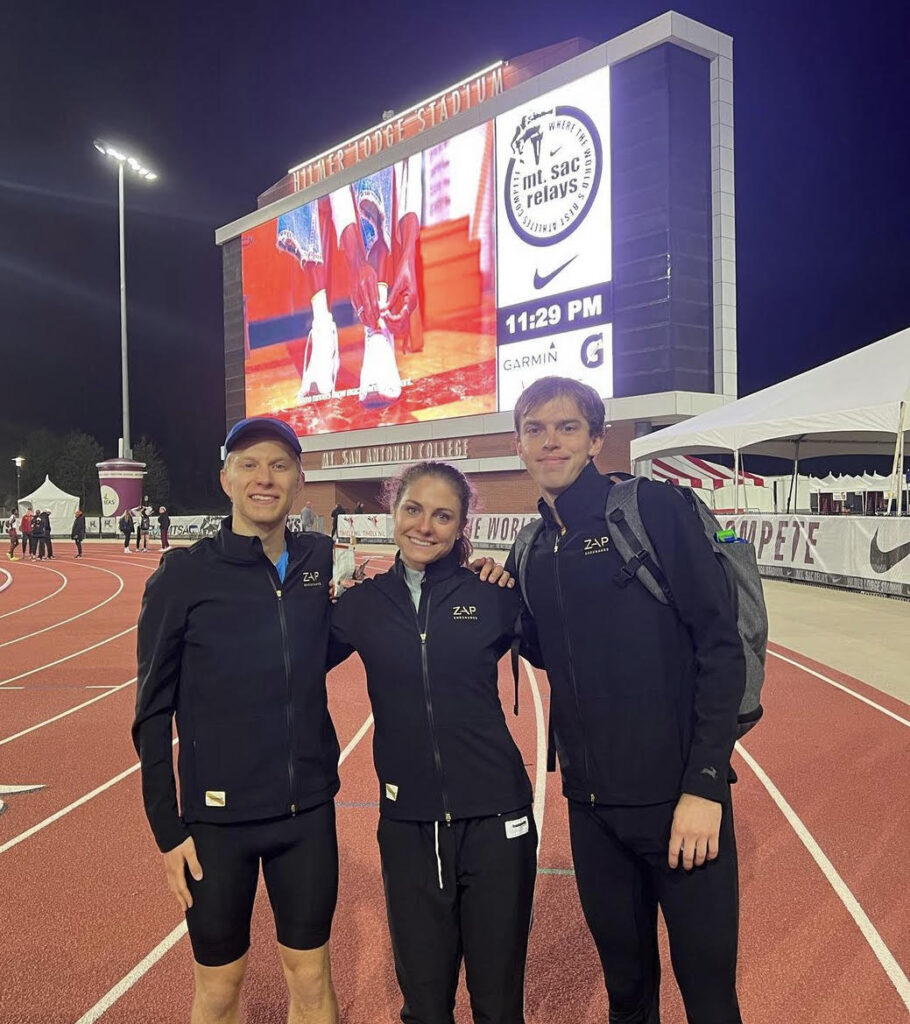 Tristin remained in front, continuing to run 75 second laps before ceding the lead and tucking in. With 1200m to go a gap between her and the leader opened up, and with 2 laps to go it was still just over a second. As they approached the bell Tristin had narrowed that gap slightly and would be racing for the win over the final lap.
In a tight finish Tristin took 3rd place, getting passed by 1 athlete over the final circuit. She closed the race in 73 seconds, good for a 3 second personal best time of 15:42, and only 3 seconds off the win.
The guys took to the track next. They had a little assistance through the first kilometer of the race from an athlete willing to pace. After an opening 2:43 kilometer (13:36 pace), the race was already down to 3 men and it would be up to Ryan and Dan to keep the pace going. The duo alternated leads throughout the race, clipping off 65-66 second laps, until 2 laps remaining.
With 2 laps to go an athlete from Eastern Kentucky took the lead and tried to squeeze down the pace. He held the lead at the bell, but closing in 60 seconds for the final lap, Ryan was able to create quick separation to take the win in 13:43. He was 4 seconds clear of 2nd place and Dan finished closely behind in 3rd, clocking 13:48.
You can find full results from the meet, including lap split times, here.
All 3 athletes will be in action at The Track Meet, back in Los Angeles on May 6th. Tristin and Ryan will be competing at 10,000m while Dan will race the 5,000m.
Prior to that however, Dan will be competing against some of the best milers in the world at the Penn Relays Benjamin Franklin Mile on Saturday, April 29th. The next day on April 30th, Ryan will also be racing a mile at the University of Virginia.