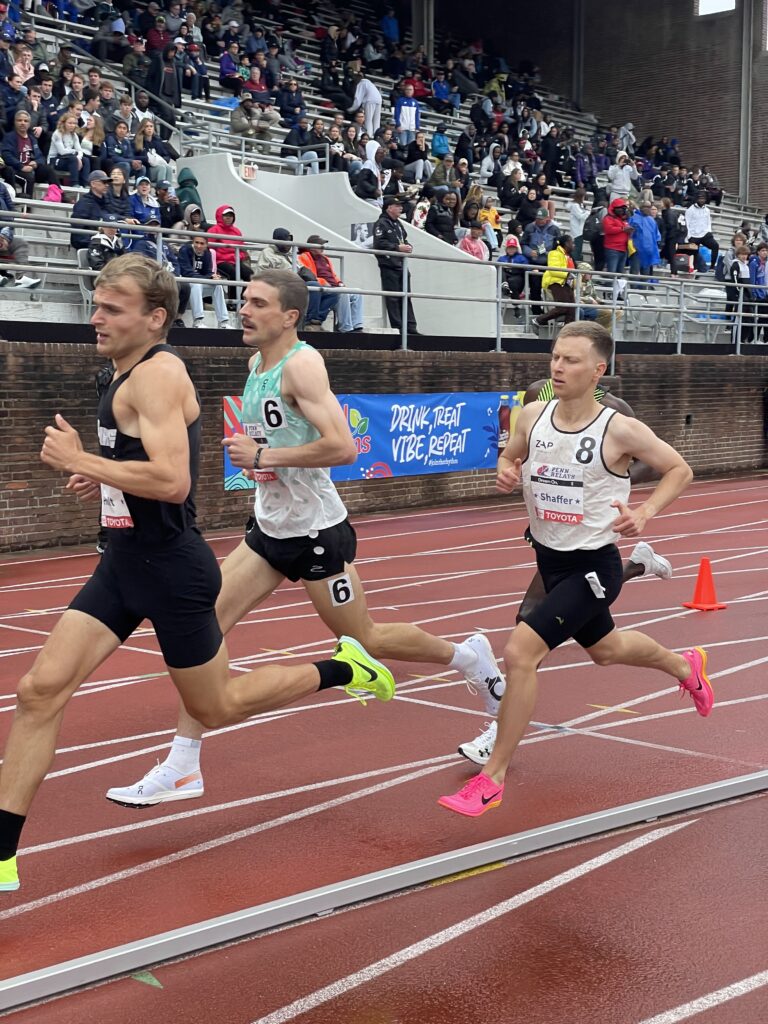 Dan had the best race of his 2023 outdoor track season on one of the sport's biggest stages Saturday afternoon. As part of the Benjamin Franklin Mile Dan competed against a stellar international field in front of tens of thousands of spectators. On a mild, breezy afternoon the race started out slowly, despite a rabbit towing the field through halfway. Dan found himself in 6th position in the 10 man field through the first 1/4 mile, passed in 62 seconds. The pace picked up slightly on the 2nd circuit, but not enough to elicit any change in the pack. The group was still tightly bunched as they hit the halfway mark in 2:02.
Through 2 laps, Dan was shuffled back to 8th place, but still within nearly 1/2 second of the leader. As expected, the pace slowed slightly as the rabbit stepped off the track. With 1 lap remaining the clock flashed 3:03 and everyone in the field was within a second of the front. The pace really began to ramp up as they hit the bell and Dan found himself in great position, tucked in 5th place and ready to strike.
He stayed in tough with the lead group as they entered the final bend, but just couldn't quite match the top end speed up front over the final 150 meters. He finished 1.2 seconds out of the win in 6th place, clocking 3:58.85 thanks to a final 400m of 55.2.
Dan's time shaved .14 off of Tyler's 3:58.99 from 2015. It also marked Dan's second club record in his rookie season after he chopped 4 seconds off the 3k record with his 7:43 this indoor season. Dan will be eying his 3rd record this coming weekend at Track Fest, where he'll compete in the men's 5,000m.
You can find the full results here.