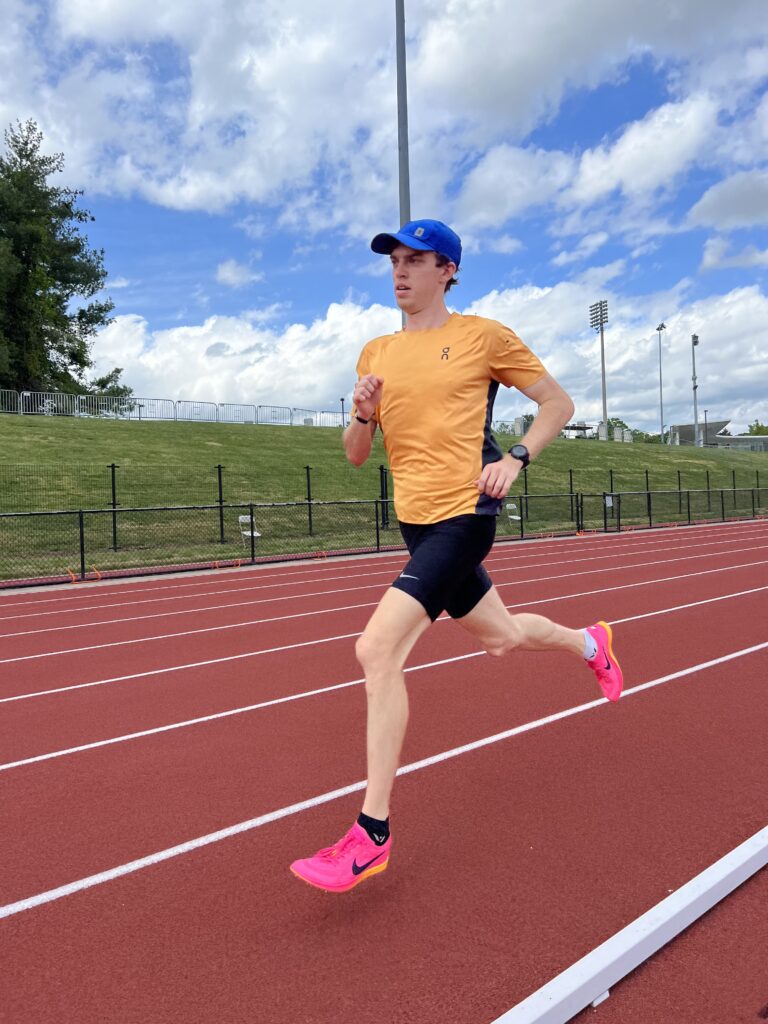 A day after Dan took down the ZAP club record in the mile, Ryan took his shot. The High Performance Meet at the University of Virginia was setup with the goal of breaking 4 minutes, something Ryan was keen on. Ryan came into the meet with a modest personal best of 4:05, but his 13:29 5k indoors indicated he was ready to make a run at the barrier. And the race was a perfect tune-up for the 10,000m goal race he will be racing 6 days later.
Just after the rain and wind blew through the gun for the men's mile cracked. The rabbit was out quickly, passing 409 meters (1 lap of the track plus the additional 9 meters required to run a full mile rather than 1600m) in 57.3. That comes out to about 3:45-46 mile pace, faster than the American record. Ryan smartly found himself in 10th out of 12th place, still passing 409 meters in 60 seconds flat.
The pace predictably slowed on the 2nd lap, with the rabbit hitting halfway in 1:58. As the pace slowed Ryan began to move his way through the field, moving up to 9th at halfway, and hitting 2 laps to go in 2:00, right on pace. On the critical 3rd quarter Ryan ran aggressively, moving up to 4th place at the bell in 3:00. He would move up to 3rd place as they hit the backstretch with 300m remaining.
As he made his way down the backstretch Ryan began to fade slightly, his legs tightening up a bit. He would battle well around the final bend and straightaway to finish 6th in 4:03.1. He was disappointed with the time, but happy with the way he raced and knowing he was 250 meters away from breaking 4 minutes.
And most importantly, he was confident in his ability to rip a good 10k this coming weekend in Los Angeles.
You can catch the full results from the High Performance Meet here.