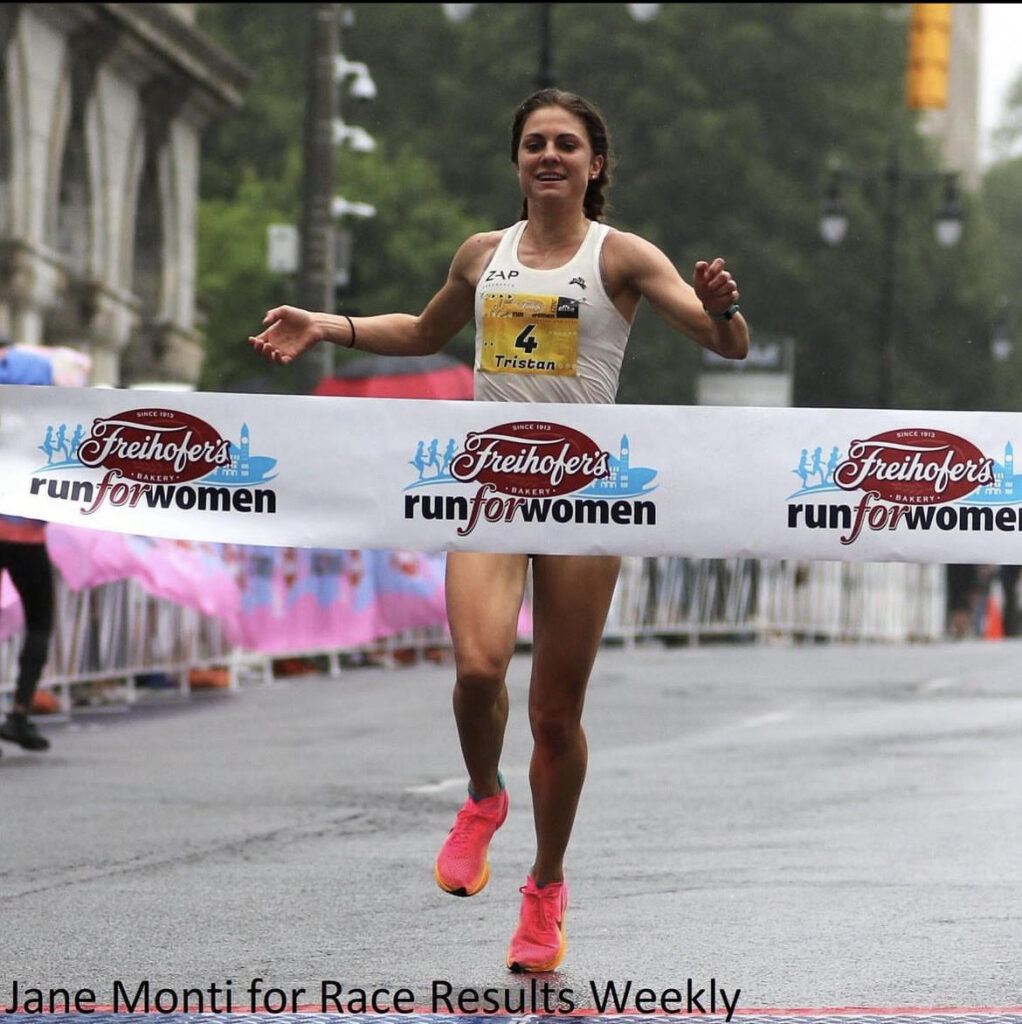 A month after a calf strain forced her to step off the track at the Track Fest 10,000m, Tristin returned to racing by snagging the biggest win of her career at the Freihofer's Run for Women 5k on Saturday. Taking down a strong field, Tristin clocked 15:54 over the hilly 5k course in Albany, NY to break the tape 6 seconds clear of 2nd place.
Tristin, known more for her 2:27 marathon strength than short distance speed, made her presence felt early in the race on Saturday morning. She quickly slid into 2nd place as the field made it's way up a long, grinding hill over the opening 3/4 of a mile. After cresting the hill the group hit the mile mark in 5:10. As the course leveled out the field slowed and she found herself slide into the lead at 2k. Taking the lead that early wasn't the plan, but Tristin was feeling strong, and making a point to keep some energy in reserve, she went with it.
From that point forward Tristin would remain at the front, keeping the pressure up on the rest of the field. They passed 2 miles in 10:30 before taking the turn back down the hill toward the finish. Over the final minutes of the race Tristin shifted gears, taking advantage of the downhill to open up a gap and break the tape at the finish.
After the race Tristin commented to David Monti of Race Results Weekly, "I just wanted to run fast; that's it." She did that and more, winning the 45th edition of the race and proving that her range extends down well below the marathon distance.
Tristin will be back at in New York next weekend, at another women's only event, where she'll compete against a world class field at the Mastercard New York Mini 10k. You can find all the race details here, and you can watch it live, Saturday June 10th at 8:00am on USATF.TV (subscription required.)
For full results from the Freihofer's run click here.