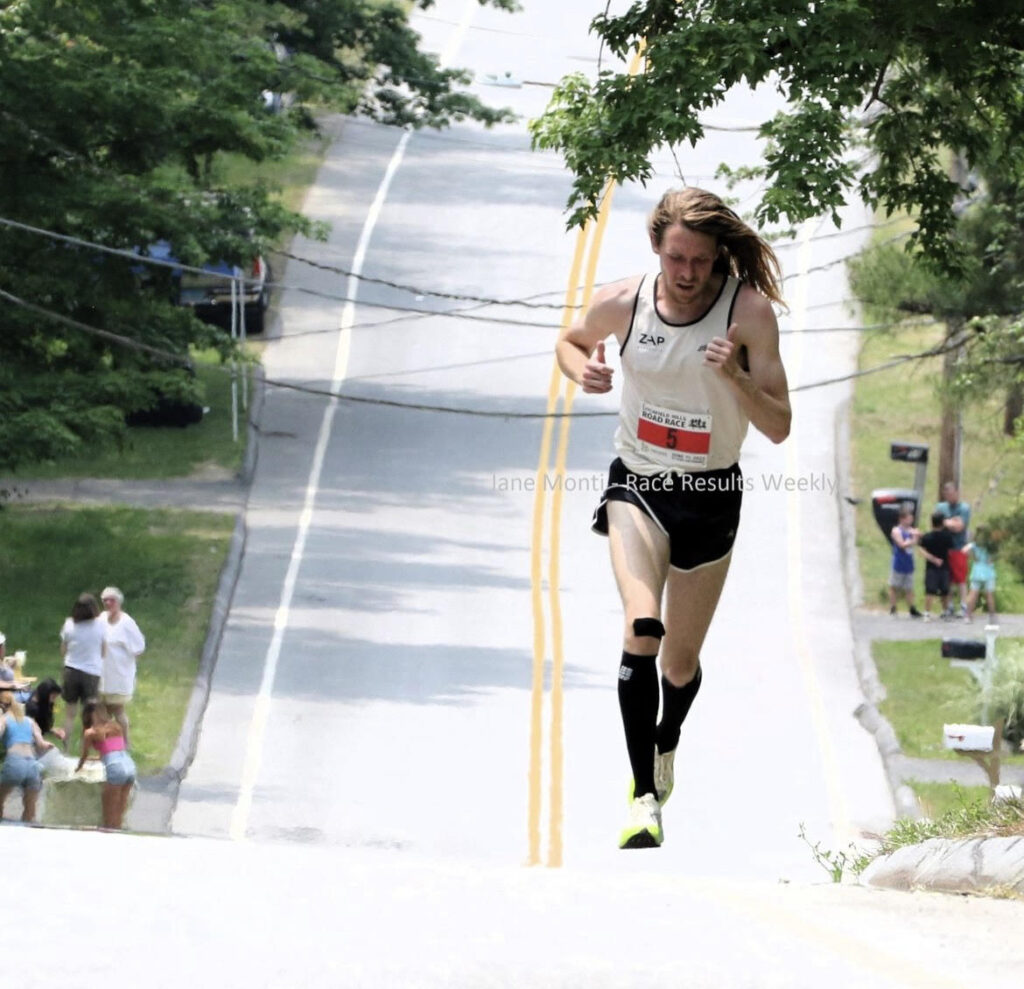 Andrew Colley and Tristin Van Ord spent the early hours of the July 4th holiday competing in one of America's great road races, the Peachtree 10k in Atlanta. Both Andrew and Tristin had previously competed at Peachtree in 2018, and they came into the 2023 edition with much higher expectations than 5 years ago.
Andrew was coming off a dominating win at the Litchfield Hills Road Race and Tristin was fresh off a 10k PR of 32:34 at the New York Mini 10k. The conditions for the race were typical for Atlanta on July 4th, warm and humid. And the fields were absolute world class, including a strong American contingent on both sides.
The men's race quickly split into 2 groups, and due to the blistering pace of the front group Andrew found himself in the chase group along with the rest of the Americans. The front group passed 5k in 13:35 and the chase pack passed 5k in 14:15. Over the predominately downhill opening half Andrew found himself continuing to drift toward the front of the group. However, he remained committed to the game plan to tuck in and relax until the top of the hill just after 5k.
Once he hit the top of the hill Andrew surged to the front of the chase pack and set his eyes on the stragglers beginning to fall off the top group. Powering up the hills over the 2nd half of the race, Andrew ran away from everyone in the chase pack and caught a few runners throughout the course of his race. Andrew finished in a time of 28:48, taking 13th place overall and finishing as the top American by nearly 30 seconds.
The women's race started off similarly quickly. Tristin was with a small group of women through 5k, which she passed in 15:53. Over the 2nd half as she began to roll up the hills Tristin felt her body temperature creeping up. And while she only lost 1 spot over the 2nd half, she felt like she struggled a bit with the heat and didn't run quite as well as she was hoping. Her finishing time of 33:05 was good enough for a 23rd place finish in an absolutely loaded women's field.
You can find the full Peachtree Road Race results here. Tristin & Andrew both returned to US Championship action 2 weeks later at the US Women's 6k Championships and the Men's 8k Championship, which you can read about here.
They are now both taking a break in training before gearing up for the Chicago Marathon this October.